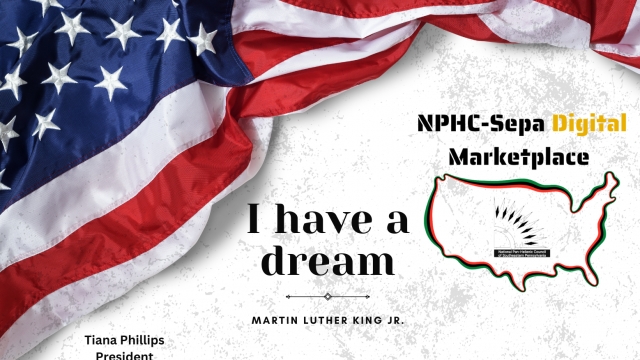 The innovative new e-commerce platform is designed specifically to help African-American Greek vendors connect to their customers in the difficult, post-pandemic economy. Under the leadership of Council President Tiana Phillips, the organization aims to build its digital marketplace into a one-stop shop for all things Greek.
More information is available at https://nphcsepamarketplace.org
The NPHC-SEPA Marketplace is a national online shopping platform available to NPHC-SEPA members and licensed D9 vendors. Their new marketplace app was created to help vendors offset the traditional costs of travel, licensing, insurance, and more by leveraging this unique marketing platform.
In the wake of the pandemic, nearly half of all small businesses in the US saw a decrease in revenue of 50% or more. As fees and expenses continue to rise, small vendors find it harder and harder to remain in business.
As a response to this mutual concern from NPHC-SEPA members and D9 vendors, a new marketplace was developed to strategically place D9 vendors in front of their target market nationwide, giving them the opportunity to connect with millions of members searching for licensed Greek paraphernalia.
Founded in 1930, the NPHC is an umbrella organization established to unite historically African-American fraternities and sororities. NPHC-SEPA is an alliance of chapters from its nine affiliated member organizations (D9) that serve Bucks, Chester, Delaware, Montgomery, and Philadelphia Counties.
The organization provides licensing to enable and empower D9 vendors to supply Greek paraphernalia, and has mobilized D9 vendors for years as a key attraction to its fundraising events and activities. NPHC-SEPA expects the new platform to benefit both vendors and members, as local vendors will have the opportunity to reach a much wider audience, and members can more easily support their local businesses.
A spokesperson for the project shared that "the launch of this platform is a testament to the commitment of the NPHC-SEPA to foster cooperative actions of its members in dealing with matters of mutual concern. We hope that this digital marketplace will help small businesses stay afloat during these trying times."
Additional details about the NPHC marketplace can be found at https://nphcsepamarketplace.org
NPHC of Southeastern PA
[email protected]
PO Box 701
United States
COMTEX_425157968/2764/2023-02-23T14:15:55
Disclaimer: The views, suggestions, and opinions expressed here are the sole responsibility of the experts. No Prestige Standard  journalist was involved in the writing and production of this article.